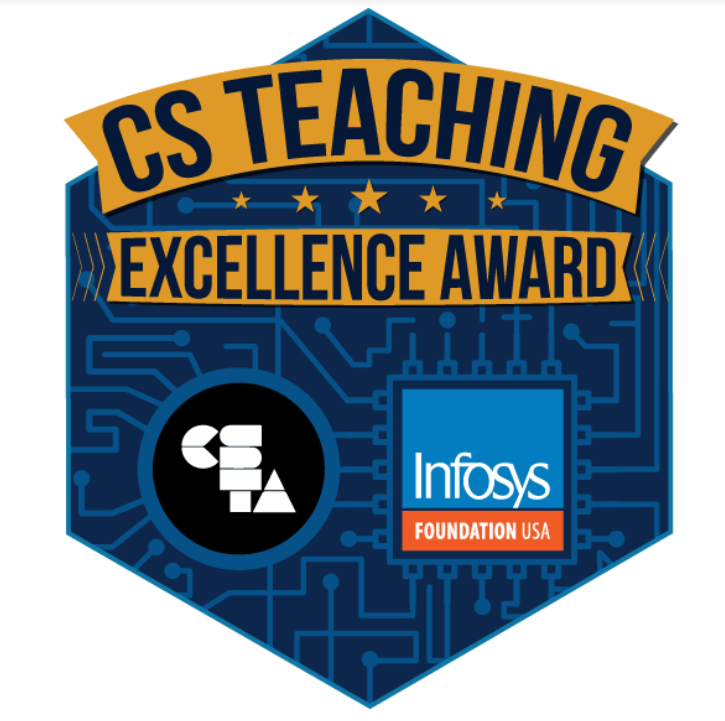 The CS Teaching Excellence Award honors K–12 computer science educators whose commitment and excellence have aided the development of CS education and technology. Winners of this award are outstanding teachers who increase the engagement of underrepresented students in computing, encourage students to pursue CS careers, and offer challenging, standards-aligned CS curriculum.
This award is made possible by Infosys Foundation USA. CSTA is thankful for their support and sponsorship, which allows us to recognize and honor the impact CS teachers have on their students, within and outside of the classroom. 
This award offers a tiered structure that includes National Winner, Honorable Mention, and Regional Winner. All applicants will be evaluated on the national level. Applicants not selected as a National Winner or Honorable Mention may still be eligible for a Regional Award.
Program Timeline
Early Winter: Part One of the application opens.
Mid-Winter: Part One of the application closes; CSTA Awards Committee conducts internal review to determine Part Two finalists; Part Two of the application opens.
Late Winter: Part Two of the application closes.
Early Spring: All Part Two applications are evaluated by reviewers.
Mid-Spring: CSTA Awards Committee selects winners; all Part Two candidates are notified of their application status.
Prizes
National Winners will receive:
A $7,500 cash prize
Complimentary registration for the next CSTA Annual Conference
A featured article in CSTA's The Voice that shares their work, plus an interview in the CSTA+ newsletter, which will also run in The Voice and/or will be featured in a video at the CSTA Annual Conference
One year of complimentary CSTA+ membership
Honorable Mentions will receive:
A $2,500 cash prize
Complimentary virtual registration for the next CSTA Annual Conference
Recognition on CSTA's website
Recognition from the applicant's CSTA chapter
One year of complimentary CSTA+ membership
Regional winners will receive:
A $500 cash prize
Recognition on CSTA's website
Recognition via a regional awards ceremony
Eligibility Requirements
To be eligible for the CS Teaching Excellence Award, you must:
Live in the United States
Teach K–12 computer science
Be a CSTA+ member
While being a member of a CSTA chapter is not required, it is strongly encouraged.
*Current CSTA board members, staff, and their immediate family are not eligible for awards with prizes attached.
*If you are not currently a CSTA+ member, please visit csteachers.org/join. If you have a CSTA Basic membership and would like to upgrade your membership, please log into your member dashboard and locate the module titled "My Membership."
*While CSTA+ membership is required to apply, we have membership scholarships available on a case-by-case basis for individuals who show a demonstrated need.
If you need of financial support to become a CSTA+ member, we encourage you to register for Amazon Future Engineer, which provides a variety of curricular resources in addition to a scholarship for CSTA+ membership. If you have questions about this process, please contact our Membership Experience Manager at jen.manly@csteachers.org.
Regions
Thanks to the continued support of Infosys Foundation USA, we were able to expand the 2022–23 CS Teaching Excellence Awards on a regional level!
New England: Connecticut, Maine, Massachusetts, New Hampshire, Rhode Island, and Vermont
Four Corners: Arizona, Colorado, New Mexico, Utah
CSTA Arizona
CSTA Indiana
CSTA Iowa
CSTA Miami
CSTA South Carolina
CSTA Wyoming
CSTA New Jersey
These awards were made possible by a grant from Infosys Foundation USA.
Questions? Contact us at awards@csteachers.org.