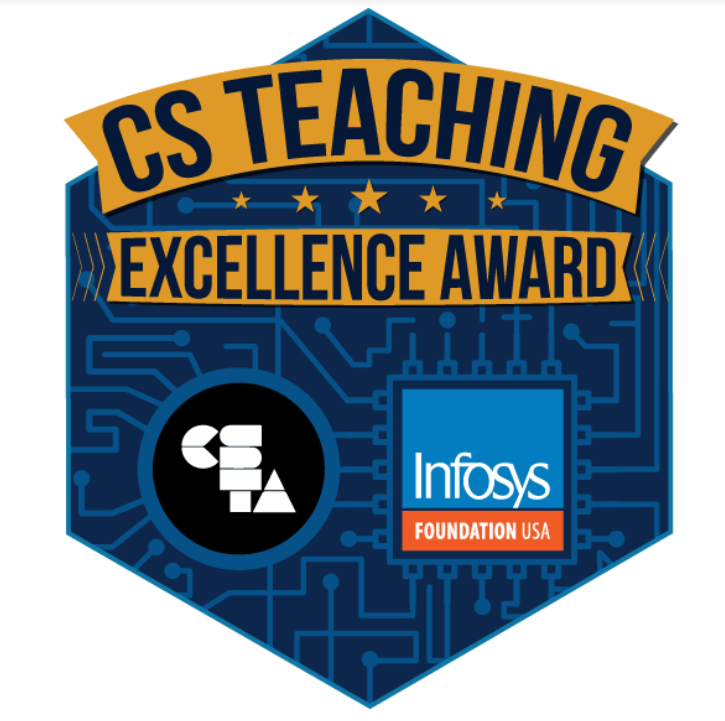 View all CS teachers recognized by CSTA and Infosys Foundation USA with a CS Teaching Excellence Award.
National Winners
Matt Alonzo (he/him) has positively influenced students' lives for over two decades. With a solid foundation in mathematics from the University of Missouri St. Louis, Matt discovered his passion for teaching computer science over ten years ago, prompted by a colleague's recommendation.

Recognizing the limited access to CS courses and the untapped potential of his math students, Matt took it upon himself to address this disparity. With unwavering enthusiasm, he went above and beyond to bring computer science to his students. Guided by the principle "if they won't come to me, then I will go to them," Matt single-handedly expanded the reach of CS education at his school.

A notable achievement of Matt's is the creation of a CS mini conference prior to Thanksgiving break. During these sessions, students in all math classes engaged in CS activities. This initiative proved highly successful, leading to the growth of the program to eight sections with over 150 students. Today, the CS mini conference is organized by the Computer Science Honor Society, a group Matt proudly sponsors.
Beyond his classroom, Matt serves as a facilitator for code.org, supporting their curriculum in CSA and CSP. He actively contributes to the CSA advisory council, shaping the future of computer science education. Matt's commitment extends further as he serves on the school board in his local district, showcasing his dedication to student success.

An integral aspect of Matt's teaching philosophy is creating opportunities for underrepresented groups to access computer science education. He fosters an inclusive environment, inspiring
diverse students to pursue computer science.

Matt's impact transcends the classroom as he shapes the future of computer science education. Through his unwavering commitment, Matt makes a lasting difference in students' lives by equipping them with valuable skills and empowering them to thrive in the digital age.
Paige Besthoff (she/her) is a computer science teacher at E. Raymond Appleby School in Spotswood, New Jersey. Paige has been teaching computers for 24 years beginning in a NYC middle school then NJ high school. Realizing the need for students to be exposed to CS at a younger age she volunteered to move to the elementary school eight years ago where she designed the K-5 curriculum based on the CSTA standards.
Students as young as eight are exposed to CoffeeScript and Python as well as block based coding. Students use Dash, Ozobots, Beebots, Sphero indi, littleBits and micro:bits to gain knowledge of physical computing. Students stare at screens all day so when they get to Paige's class she wants them to be able to use their hands and minds to create technology, not just consume premade content.
Besides focusing on creating, it is important that all students have access and the ability to succeed. Every student gets what they need to achieve success. When you walk into her room, you see students working on different platforms creating different projects. One student may be working on block coding with arrows, another block based text blocks and another coding micro:bits in Python.
Paige hosts Family Code and Robotics nights and is STEAM Camp Director. Paige is also active at state and national levels. She is the CSTANJ Chapter Secretary, Co-chair CSTANJ CSPD Week, CSTA K-5 Conference Subcommittee member, presenter for CS is Elementary, CSTA and ISTE, Code.org CS Fundamentals facilitator, workshop presenter for TCNJ CS Education Hub, Rutgers University and Kean University CS Hubs, Elementari ambassador, Sphero Hero, Tynker Distinguished Educator, administers a K-8 Facebook group, and mentors teachers interested in CS.
Connect with Paige @pcteachershs and LinkedIn
Jason Galbraith (he/him/his) started his career with an M.S. in artificial intelligence (after a computer science undergraduate degree with minors in physics, mathematics, and art history), but then realized he enjoyed teaching more than working on research. After getting his high school teaching license in advanced mathematics and physics, he landed a job teaching computer science for a Career Technical Education (CTE) pathway at Sunset High School in Beaverton, Oregon, where he has been since 2007. He has taught a huge variety of technology classes for all levels of students, from computer introductions for middle school students to college-level computer science classes. At Sunset, his classes include 3D modeling, video game creation, web design, robotics, Java programming, C++ programming, data structures, discrete mathematics, cybersecurity, and artificial intelligence. Using project-based and flipped classes, he teaches all of these classes in the same room at the same time, with class sizes of up to sixty students. In 2015, he received a grant to create a mechanical and electrical engineering program to allow for physical problem-solving to go with the digital problem-solving, and Sunset now offers over twenty different high school classes between the two career pathways.
Jason has won numerous awards including the 2014 National Center for Women & Information Technology (NCWIT) Educator Award for Oregon, 2019 Presidential Award for Excellence in Mathematics and Science Teaching (PAMEST), and 2022 TechStart Technology Educator of the Year.
Outside of school, Jason coaches video game teams, mentors robotics teams, and runs multiple after-school clubs. During the summer, he runs girls-only technology camps and high school software engineering workshops, as well as running teacher workshops through the Oregon Computer Science Teachers Association (OCSTA). Recently he has served on multiple Oregon Department of Education committees to advance computer science initiatives in education.
Keethan Kleiner (he/him) returned to teach at his high school alma mater, the North Carolina School of Science and Mathematics (NCSSM), in 2016. He earned his B.S. and M.S. in computer science from UNC-Chapel Hill, specializing in artificial intelligence. Before teaching computer science at NCSSM, Keethan worked as a software engineer in natural language processing.
Since entering education, Keethan has completed the STEM Educators for Equity & Diversity Fellowship, Cultural Competency in Computing Fellowship, Education Policy Fellowship Program, and Socially-Relevant Computing & Analytics Research Experience for Teachers. Keethan is also the recipient of the 2022 and 2023 National Center for Women & Information Technology Aspirations in Computing Educator Regional Awards and the 2021 Regional Honorable Mention.
Teaching courses at all skill levels, Keethan has worked to increase access to computer science education for students from underrepresented backgrounds via interdisciplinary programming and by incorporating culturally-responsive and socially-relevant curricula. Keethan expanded the computer science program with the creation of multiple interdisciplinary introductory programming courses in Art, Mathematics, Physics, and Robotics. He also created a course for the distance education program, machine learning and computer engineering courses, a computer science research experience, and summer introductory programming courses. Outside of the classroom, Keethan also sponsored many clubs, competitions, and student-led courses and supported the artificial intelligence program as the AI Facilitator.
In addition to his work in the computer science program, Keethan has been active in school leadership and the leadership of the UNC System, working to increase equity, diversity, and inclusion at all levels. He has presented on the computer science program, interdisciplinary programming, and school governance at the National Consortium of Secondary STEM Schools Professional Conference.
Keethan is passionate about ensuring access to high-quality computer science education and interdisciplinary programming courses so every student can develop an appreciation for computing.
Twitter: @keethankleiner
Chantell Mason-Tubbs is a middle school computer science teacher in the Webster Groves School District in St. Louis, Missouri. She has taught for over 15 years in the elementary and middle school grades. She is the coach of the Esports team in her building, and they are currently regional winners in the Missouri Scholastic Esports Federation league. Chantell teaches web development, programming with Python and JavaScript, and game design computer science classes using an open source curriculum that she has written for each course.
Her students regularly present with her at local Raspberry Pi Jams showcasing their Raspberry Pi and Micro:bit projects and her students were featured in a RedHat documentary, Farming for the Future, showcasing their computer science aquaponics projects. She is an ISTE Making IT Happen award winner, a PBS Digital Innovator All-Start, a 2018 METC Spotlight Educator and a Raspberry Pi Certified Educator. Chantell presents at local, regional, and national conferences about topics related to technology, computer science, Problem Based Learning, and STEAM. She has led coding camps and works on various projects supporting our earliest learners with her local PBS affiliate, Nine Network, and has written a computer science curriculum for the K-12 Initiative at Cornell Tech. She is a science and computer science coach with the National Math and Science Initiative (NMSI). Currently, Chantell supports and trains teachers in a joint project with NMSI and Deloitte's Smart Factory Believers Program. She is driven to empower all learners through computer science with accessible and equitable curriculum and real-world experiences.
Carla Neely is a math, science, and computer science teacher at Northwest School of the Arts in Cleveland, OH. Carla believes that computer science enhances instruction. Therefore, it should be integrated into the curriculum and not taught in isolation. Furthermore, she believes that computer science should be introduced at the elementary and middle school grades, which serves as the foundation for high school learning. Her entire 24-year career has been with underrepresented students in urban school districts, particularly African American girls. Carla enjoys showing African American girls that not only has there been and continues to be girls and women who look like them in computer science, but there is room for them as well. Because the girls in her classroom were tired of using activities from other programs and clubs, they created their own club with original coding activities, and thus, in 2022 Fros and Codes was born.
Carla has an M.A. in Curriculum & Technology and is a member of the CSTA Equity Fellow Alumni. She is the recording secretary of CSTA Ohio. In addition, she is the chair of the CSTA's Editorial Board and the co-chair of the Policy Committee. Since 2021, Carla has been a micro:bit champion. She is also an Albert Einstein Distinguished Educator Fellow working in the office of Senator Jacky Rosen. Through this honorable opportunity, Carla helped to introduce The Women of Color in Tech Resolution, designating March 24 as the day in which we honor all the contributions women of color have made in technology fields. Recently, she was appointed as a member of the NCWIT K-12 Alliance Advisory Team.
Michelle Pierce (she/her) is the Middle School Computer Science Teacher at Mallard Creek STEM Academy in Charlotte, NC where she was recently chosen as the 2022-2023 Middle School Teacher of the Year. She also teaches Digital Citizenship lessons to every K-8 student to help them develop critical 21st-century skills and understand their personal responsibility while using technology. Michelle leads an afterschool Girls Who Code Club in support of their mission to help close the gender gap in tech. She also serves as a Team Lead and Teacher Mentor.
Michelle is intentional about building relationships with her students so that she can show them all that Computer Science has to offer. She is passionate about using her voice to advocate for diversity and equity in Computer Science. In the classroom, she works to present Computer Science in relatable, yet fun ways while using diverse course materials so that students can see themselves represented. In April, Michelle hosted a school-wide Hackathon event where over 100 families participated in hands-on activities to learn more about different areas of Computer Science.
In 2021, Michelle was 1 of 10 Educators recognized as an Amazon Future Engineer Teacher of the Year for her work in helping students in underserved and underrepresented communities discover all the possibilities Computer Science brings for the future. As a result of her award, she was chosen to represent the Amazon Future Engineer program at the 2022 CSTA National Conference, where she also had the privilege of introducing one of the keynote speakers.
Michelle holds certifications as a Common Sense Educator and Google Certified Educator Level 2. She is an active member of the NC CSTA chapter, CSTA Black Affinity Group, and ISTE. She is also a founding member of the Charlotte Women in Tech for Good.
Trevor Rabourn currently serves as the STEM teacher, MESA Club (Math, Engineering, and
Science Achievement) Advisor, and Chess Club sponsor at Ruidoso Middle School in Ruidoso,
New Mexico. Trevor has served the Ruidoso School district for over 20 years. During his time
with the district he has also taught Journalism, Technology, and Math; coached middle school
football, basketball, track and high school Cross Country; supported teachers as the district's Technology Integration Specialist; and written and administered Robotics and Computer Science grants for the district.

In 2018 Trevor was tasked with the design and development of a new middle school STEM program and classroom. Support from the district allowed him to create the perfect setting for the MakerLab and STEM classroom he now calls home. In the lab Trevor catalyzes middle school student interest in CS by providing them with an array of robotics, physical computing, and "maker" experiences; giving students multiple entry points and allowing them to see how vital basic CS knowledge will be to their future career goals.

Trevor extends CS beyond the school day by providing enrichment opportunities for students at the school as a MESA advisor. Since assuming the advisor position, club membership has more than doubled with a majority of the growth coming from underrepresented populations in CS. The MESA Club at Ruidoso Middle school placed 1st in the statewide MESA Day competition in 2021, 1st place in the Air Force Research Laboratory's Robotics Challenge in 2022, and 1st place in the New Mexico Tech MESA Combat Robot competition in 2022. For his efforts with MESA, Trevor was recognized as the MESA Southeast New Mexico Middle School
Advisor of the year for 2020-2021 and 2021-2022.

Trevor begins every semester by sharing how blessed he feels to be teaching a course where the content is constantly evolving and where he must continually learn about new technologies. He hopes his enthusiasm for learning, coupled with the educational experiences within his classroom will help students find joy in learning and will inspire them to pursue their own educational journeys.
Daniel Sorge is a computer science teacher at New Britain High School where he has worked
for the last three years. Prior to that, Daniel taught computer science at Seymour Middle School for 10 years. His educational background includes a bachelor's degree in business, a master's degree in education, and a variety of teaching endorsements.

When Daniel began teaching at New Britain High School, he helped strengthen the computer science pathway. Teaching courses such as mobile app development, principles of IT, and explorations of computer science, he has created a pipeline of students poised to pursue advanced placement course offerings. Daniel is thankful for the incredibly supportive staff and administrative team of New Britain who were instrumental in expanding his professional learning opportunities including the opportunity to become an ISTE-certified educator.

Daniel's teaching philosophy is founded on the belief that all students can achieve greatness. Through a student-centered, personalized learning environment, Daniel seeks to connect with students so that they can find meaning in their learning. In CS classes, students are challenged to become creators, not just consumers, of technology.
In addition to his students, Daniel is driven by his wonderful wife and two young girls who inspire him every day!
Melissa Zeitz is in her 22nd year as a teacher in the Springfield Public School District. Melissa has developed a specialization in the areas of Special Education, Digital Literacy and Computer Science (DLCS) throughout her extensive teaching career.

Melissa's work also extends beyond her classroom, working both within and outside of her district. As an active member of ISTE, CSTA, and Masscue, she has delivered training to teachers on how to integrate technology & Computer Science into their curriculum. Within the Springfield School District, Melissa is serving as the technology and resource coordinator for the CSforAll Springfield grant.

Melissa is deeply passionate about instilling a love for creativity through CS and physical computing in her students. She derives immense joy from witnessing the excitement and anticipation of her students when they engage in CS activities. Melissa firmly believes that collaboration, creativity, and problem-solving are the fundamental skills that all students need to develop to succeed in their future college and career endeavors.

She is highly engaged in the technology education community beyond her
classroom. Melissa is currently serving as the President of the CSTA of Western Mass. Her expertise is highly regarded in the field, having served as a Code.org Fundamental Facilitator, Microsoft Innovative Educator Expert, HP Teaching Fellow, and a presenter at various conferences. In addition, Melissa is an Elementary Computer Science Subject Matter expert for CSforMA, and has contributed as the elementary curriculum reviewer on the DLCS curriculum guidebook.

Melissa is an adventurous person who loves to try new things. She enjoys line dancing and west coast swing, and has a passion for traveling and exploring new places around the world. Spending time with her friends and family is important to her, and she values creating new memories with them while trying out new activities.
Honorable Mentions
Christopher Evans is a Computer Science teacher at North Forney High School in Forney, Texas. He holds a bachelor's in Radio and Television Production and a master's in Educational Technology Leadership, both from Texas A&M University-Commerce. He began teaching technology applications 17 years ago and transitioned to CS eight years ago. During that time he's started two CS programs. The first was at Arlington Classics Academy, for which he was recognized in 2018 with the WeTeach_CS Change Maker Award. The second is his current program at NFHS where he pioneered the district's first AP CSA class. Outside the classroom, Christopher coaches UIL CS and CoderZ League Virtual Robotics teams and leads elementary and middle school summer coding camps. Christopher is a devoted husband, dedicated father of four, and just a big nerd. Although he is not THAT Chris Evans, he will answer to Captain America.
Jeremy Joven is a computer science teacher and robotics coach at the Spence School, an all-girls school in New York City. He has taught STEM education in public charter and private schools for more than a decade, including teaching abroad in southern China and Hong Kong. Previous to his work at Spence, Jeremy oversaw the computer science program at the largest charter school network in New York City where he managed teacher training, developed curriculum, and organized hackathon events. He has presented at the National Coalition of Girls' Schools (NCGS) Educating Girls Symposium and his work has been published in beanz, a magazine that explores coding and programming for kids.
Committed to uplifting underrepresented and underserved populations in computer science, Jeremy has dedicated his career to making CS education more accessible. He believes that students begin to see computer science and coding as powerful tools that can be used to design solutions to our world's problems and needs, when students are given agency in their learning and empowered to use their voice. Jeremy's students participate in the American Computer Science League contests and in the FIRST Robotics programs (FIRST LEGO League & FIRST Tech Challenge), where they have won awards at the regional and national level.
Jeremy received a bachelor's degree in Electrical and Computer Engineering from Duke University and a master's degree in Childhood Education and Special Education from Touro University.
Twitter: @JJinCSEd
Ascension Reyes is a Technology Resource teacher at De Anza STEM Magnet School in El Centro, CA. He has taught Technology and STEM electives for the past 10 years. In addition Ascension has taught an educational technology course at San Diego State University for the last 6 years.
Ascension integrates Computer Science, STEM and Maker Education into his elective classes, teaching with Arduino, Microbit and Halocode microcontrollers. He also utilizes tools like Minecraft education, Kodu, Tinkered and Scratch to engage students in hands on computer science activities. He has instituted various annual events that promote CS in his district and school site like Girls can Code night and annual Robotics Day events. Also as a consultant, Ascension has worked as a lead trainer with the Imperial County Office of Education on their Kids can Code grant.

Over the years Ascension has been a leader locally and regionally in promoting Computer Science, STEAM and Maker Ed, through his work with CSTA Desert Valley and Imperial Valley CUE. He has developed summer professional development workshops and presented at events like "Beyond the Hour of Code" events as well presenting on the Arduino coding and robotics platform at the annual California STEAM Symposium and Fall and Spring CUE conferences.

In the last two years Ascension has been building a school wide robotics program that has been able to place 12 robots in each classroom 1st through 6th grade. Likewise he has put together a first annual robotics competition within the school district utilizing Makeblock mbot Neo robots. He continues to build capacity at his school site and school district to bring CS to the forefront. The importance of giving each student an opportunity to create with Code and explore with code are the driving force to his passion as a CS educator.
Cindy Wong is an elementary school technology teacher at P.S. 41Q in Bayside, New York. She loves engaging her students in lessons on computational thinking, digital applied skills, and digital citizenship. She believes all students should have early access and exposure to computer science. As an author of a children's book, "Clara Perseveres" she hopes to encourage children to keep trying and not give up. She was a 2019-2020 CSTA Equity Fellow and is also a Computer Science Lead at her school with CS4ALL NYC, and a Certified Google Trainer and Innovator.
Julie York has been teaching computer science and media electives at South Portland High School in South Portland, Maine since she was hired in 2002. Hired to teach Video Production, she has gone on to develop and maintain many new classes for the school community that include Animation & Game Design, Digital Graphics, Advanced Technology, and Introduction to Computer Science. Community and joy are two main focuses in her life and teaching: with representation, inclusion, involvement, creating, passion, empathy, and diversity at the forefront of her planning and development. She is married with two children and has two businesses she founded and continues to run for fans of anime and gaming in Maine: Weekend Anime & Games and PortConMaine.
Regional Winners
CSTA Arizona

Kim Alvin De Lara
Tyrone James Joe

CSTA Indiana
CSTA Iowa

Ryan Friederich
Kyle Kuhlers
Emily Lewis

CSTA Miami

Mark Godinez
Wanda Latrice Jones
Daniel T. Jones

CSTA New England

Charlie MacFadyen
Joanna Marcotte
Priya Rajagopal

CSTA New Jersey

Richard J. Bell
Atiyah Conry
Maria Filipe

CSTA South Carolina

Courtney Dickerson Sheriff
Lizabeth Nelson Webber

CSTA Wyoming
Four Corners

Ann Root
Ramsey Seweingyawma
Brian Smith
National Winners
Mary Ann Cassidy
Kathleen Effner
Dr. Tamika Grizzle
Benadette Manning
Monika Moorman
Regina Nadbielny
Kyle Pierre
Jeremy Schwartz
Sonia Spindt
Barbara Teterycz
Honorable Mentions
Michele Cislo
Diniah Dean
Jennifer Manly
Amy Wright
Heather Wright
Regional Winners
Illinois

Anita Debarlaben
Adam Lueken
Daniel Ravury
Georgia

Lakeisha Fuller
Victor Hicks
Philip Peavy


Kentucky

David Lane
Jonathan Lowe
Chad Niedert
New Jersey

Gary Hull
Nancy Ricca
Danielle Vandenberg
Massachusetts

Ruth Farmery
Kara Hass
Eleanor Richard
National Winners
Nicholas M. Bousquet
Yolanda Kol
Adam Lueken
Melanie Haley Olson
Khamphet Pease
Samuel K. Puich
Agustin Sarmiento
Devon Senneseth
Timothy Clifford Swick
Catherine Tabor
Honorable Mentions
Tonya Coats
Taghrid El Meliguy
Annie Kelly
Mark Nechanicky
Adam S. Riazi
Regional Winners
Minnesota

Tina Kude
Whitney Determan
Josephine Winter
Arizona

Jill V. Jones
Pradip Misra
Jessie L. McKinley
Indiana

Mark Snodgrass
Amy Fletcher
Genevieve McLeish-Petty
Wyoming

Melissa Price
Sharon Seaton
James Cunningham
South Carolina

Sarah Tooley
Denise Wright
Robin L. Jones
New England

Nicole (NJ) Rivilis
Allison Braley
Laura Peters
National Winners
Maria Camarena
Daryl R. Detrick
Vivienne Forrester
Mary Heishman
Visa Thiagarajan
Honorable Mentions
Elizabeth A. Dierker
Jennifer Jones
Carolyn A. Petite
Brian Downing Smith
William Warren
National Winners
Nimmi Arunachalam
Michelle Cannon
Elaine Griggs
Jonathan LoPorto
Laura Ramirez
Honorable Mentions
Michelle G. Lee
Lanna Mack
Andrea Salas
Kristie Steinlicht
Leon Tynes
National Winners
Sandra Czajka
Martin Fish
Bobby Oommen
Ryan Robidoux
Dylan Ryder
National Winners
Eric Allatta
Jacqueline Corricelli
Karen Donathan
Farrah Falco
Steven Floyd
Ray Kinne
William Lau
Robert Luciano
Daniel Moix
Jared O'Leary